uPVC Fascias and Soffits Pontypridd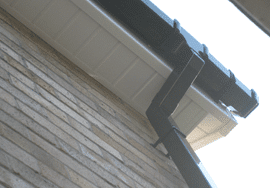 Lots of people ignore the role that their roofline plays in protecting their homes against the elements. That is until it starts to cause problems. Dripping guttering, damp patches, rotten fascia and soffits.
What is the roofline? It's the boards and rainwater goods that, which feature along the edge of your home's roof.
It's made up of soffits, gutters and fascia boards.
Fascia boards run horizontally along the roofline. Fascia boards close in the space from the bottom of your roof tiles.
Then you have soffits – soffits usually fill on the space going from the bottom of the fascia and onto the walls.
Their role is to safeguard your home against water ingress as well as to shield the roof timbers.
Guttering is then fixed onto the fascia board and this then takes the plentiful supply of rain that we get (here in sunny Wales!) away from your building and down into the down-pipes that transport this rain water underground.
The importance of efficient guttering should not be underestimated.
Issues can arise because a high percentage homes have wood fascia boards and soffits. Wood fascia boards and soffits require frequent upkeep in order to make certain that they work correctly.
We realise that this is not something most homeowners want to deal with.
At Mac we specialize in replacing roofline.
Mac Home improvements replaces existing roofline with stunning maintenance free uPVC. This means that – provided it's done properly – you will not need to paint your roofline products or treat them ever again.
Mac Home Improvements use high quality roofline products and we also believe that not only do new fascia, soffits and guttering need to do a very important job- but that you want them to look great and improve the look and value of your home.
Mac Home Improvements provide a gorgeous selection of different colours and finishes- including everything from classic clean white to a more contemporary anthracite grey as well as a selection of traditional wood grain effects.
At Mac Home Improvements we believe we offer excellent value for money. Mac use professional roofline installers (who have been with Mac Home Improvements since the day Mac Home Improvements begun almost 20 years ago), great value prices, guarantees and customer service that is unbeatable.
If you're considering replacing your fascia, soffits and gutters and you want some information- then you need look no further. View our customer testimonials and see just what our customers think of us!
Free, written no obligation quotations, no pushy salesman- just good old fashioned professional friendly advice. Give us a call today or fill out our online contact form for advice on uPVC Fascias and Soffits Pontypridd.