Gutter Repairs & Replacement
If you are being kept awake by the constant dripping of guttering- or have damp exterior walls- chances are your gutters are in need of some attention.
Complete our form today for a tailored, no-obligation quote
At Mac Home Improvements our main service is the installation of new fascia, soffits and gutters. However, over the years we have added to this service a gutter cleaning and repair department.
Gutter Repairs Cardiff
Often it is not a full replacement that is needed and a small repair is all it takes to sort out any problems you may be having.
Our cleaning and maintenance teams are experienced roofline installers. They carry a stock of different parts on their vans and are able to fix most problems by installing a new joint or bracket.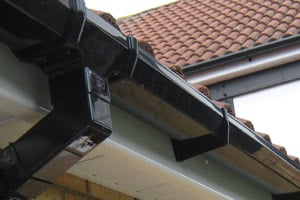 Sometimes lack of cleaning can be the cause of gutter joints separating- plant roots and roof debris can force open the vacuum seal of the joint.
Other times it could just be that the joint is faulty or has deteriorated over the years.
Whatever it is – we can sort it- all at a reasonable cost.
We often, also, re-align gutters where they have been poorly installed.
We have been installing, cleaning and repairing roofline all over South Wales for the last 25 years. Believe us when we say we have seen it all!
Guttering Repair Cost
To find out your guttering repair cost, give us a call – or complete our contact form. You can take a look around our site and get a feel of what we do. If its just some advice you are after – please ask. We will be happy to help with your gutter repairs concerns. All without any obligation whatsoever.