New Gutters Fitted in Bridgend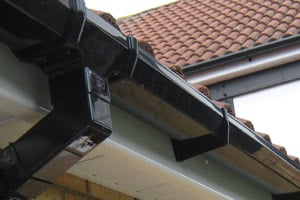 Guttering has a necessary part to play when it comes to keeping your home sealed and dry. It's often something that is forgotten about until it starts to become a problem, dripping or causing damp patches. It is imperative that your home has well maintained gutters in order to avoid these kinds of issues before they happen.
Gutters play an important part in keeeping your home dry tear round, but we also think it's improtant that they look nice as gutters play a large part in the outward appearance of your home.
We can provide you with a complete range of designs- including everything from traditional cast iron effects for a more traditional looking home, to clean classic white, along with black, brown, caramel and modern anthracite grey gutters. Mac Home Improvements have a comprehensive range, all in gorgeous, maintenance-free unplasticised Polyvinyl Chloride.
Mac Home Improvements are able to install the whole collection of matching fittings to ensure a professional water-tight finish.
All guttering fitted by us comes complete with the manufacturers guarantee against discolouration.
Mac Home Improvements will install standard size guttering in iconic designs such as classic half round gutter as well as more modern square-line styles. Mac Home Improvements will offer a deeper-flow option, which is ideal for houses with steeper pitched roofs. Deeper-flow gutters are our prefered choice because of their higher flow capacity. An additional advantage of this is that the guttering needs less in the way of regular cleaning and maintenance because of the shape of the profile.
Also available at Mac is the ogee gutter system. This style has a traditional curved appearance.
After over 25 years experience of installing new guttering all across South Wales Mac Home Improvements are able to provide for you the highest quality roofline products at competitive prices.
Call us or complete the online contact form on our website for all the roofling information you could need!