Cardiff uPVC Guttering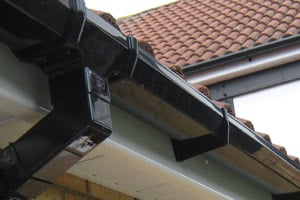 Guttering has a huge part to play in keeping your home watertight.
Guttering is often something that is overlooked.
(That is until it starts to give you sleepless nights- dripping constantly -or you begin to find patches of damp appearing on your walls inside the home).
Because of this it is crucial that your home has free- flowing well maintained guttering so that you avoid these kinds of problems.
New guttering can also hugely improve the appearance of your homes exterior- just take a look at some of our 'Before and After photos.
Mac Home Improvements can provide you with a wide range of colours- from Traditional Cast Iron effect- for the more traditional looking home- to Classic White, Black, Brown, and contemporary Anthracite Grey gutters.
All in stunning maintenance free.
We are able to install the full range of matching fittings to ensure a professional water-tight finish.
Every gutter comes complete with a manufacturers guarantee.
We can install standard shapes and sizes like classic half round gutter or more modern square-line styles. Mac can provide a deeper-flow option, which is great for houses with steeper pitched roofs- deeper-flow guttering has a higher flow capacity and so are well suited for areas that are susceptible to large amounts of rainwater There is also the ogee gutter system available.
After over 23 years experience of installing new gutters all across South Wales we can provide you the highest quality roofline products at fantastic prices with unrivalled customer service.
Call us or complete our online contact form on our website- Mac will be on hand to provide you will all the advice you require!